Tue 10 Aug 2010
Posted by Charlotte under
Recipes
Comments Off

on Peach Custard Pie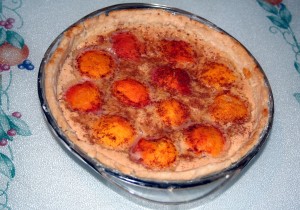 I'm told that Elsie's pies routinely won first prize at local fairs. This recipe certainly was a winner at the farm. Jim's face still lights up whenever I make it.
Peach Custard Pie
5 or 6 firm peaches
1 cup white sugar
1 T. cornstarch
2 eggs
A 9 inch unbaked pie shell
Peel and halve peaches. Place the halves cup side up in the pie shell, covering the bottom completely. Mix the sugar and cornstarch. Add the eggs, beat, and pour over the peaches. Dust the top with cinnamon. Preheat the oven to 425°F., then reduce the heat to 350°F. Put the pie in the oven and bake it for 30 minutes until the custard sets.