Thu 9 Feb 2006
NOTES: Scroll down the page to view more recent posts. Most images can be enlarged by clicking on them.
Thistle Ha' is a farm located in Pickering Township, Ontario, Canada. It was settled by Scottish immigrant John Miller in 1839.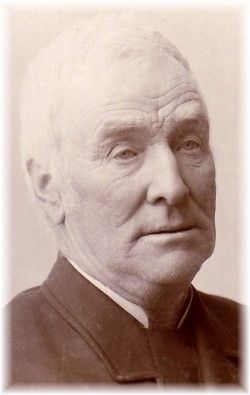 John Miller (pictured) and his descendants had a tremendous influence on the purebred livestock industry in Canada and the United States in the 19th and early 20th centuries. The Millers were renowned innovators, importers, breeders, exhibitors, judges and promoters of Shorthorn cattle, Clydesdale horses, Berkshire and Yorkshire pigs, and Shropshire, Leicester and Cotswold sheep.
In recognition of the contributions of the Millers to Canadian agriculture, Thistle Ha' farm was designated a National Historic Site of Canada in 1973 and a Province of Ontario Heritage Property in 1977. The honours awarded to individual family members – including those related to the Millers by marriage – for their contributions to the purebred livestock industry are too numerous to list here.
Thistle Ha' is currently owned and operated by the fourth generation of Millers in Canada.
Over the years, Thistle Ha' Miller descendants and relatives have scattered throughout Canada and the United States. But they always found they could return to their family's home and be warmly greeted by the Millers living at Thistle Ha' to share a cookie or a meal, some family history, pictures and entertaining stories.
To ensure that family connections are not lost, and to preserve the story of the extended Miller family for present and future generations, we have created this web site. It is intended to enable a "virtual visit" to Thistle Ha', allowing easier access to, and sharing of the ongoing story of the Millers of Thistle Ha' and their many relatives and friends.
Thistleha.com will be regularly updated. Items posted from private family and public collections will include:
History – Millers, and their relatives and friends of generations past.
Recipes – Thistle Ha' favourites.
Media – images, interactive maps and audio recordings.
Lore – stories told over the years.
Links – additional internet resources of interest.
Today – current Thistle Ha' and family updates.
We hope you enjoy a periodic visit. Since we only know a small part of the Miller story, please feel free to let us know if you wish to share a correction, family story or other information with us by using the general E-mail button at the top of the home page. We will then send you a private E-mail address that you can use to send us all your future submissions and communications. Unfortunately this is required to sort your important contributions from the eventual mountains of spam that will accumulate in our E-mail system.
Welcome to Thistle Ha'!
– John, Jim, Charlotte and Christopher Miller.